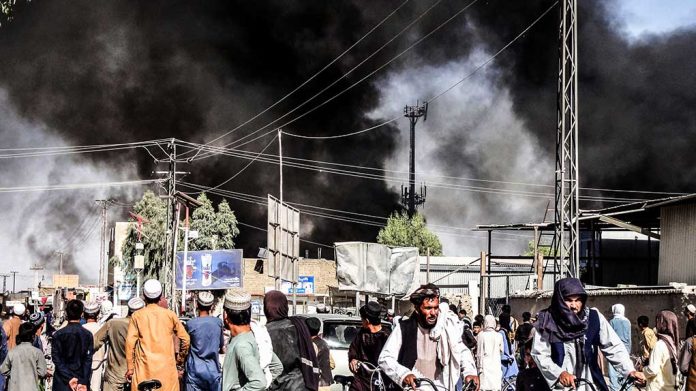 (LibertySons.org) – Taliban troops continue to impede ongoing efforts by US forces to evacuate American citizens and friendly Afghans by the August 31 deadline imposed by the extremist group. As the events unfold in chaotic Afghanistan, there is mounting uncertainty regarding the accuracy of Americans' information.  Recent reports by an Australian news site and other overseas media companies shed light on Afghanistan's worst day.
Australia's Sky News
On August 21, Stuart Ramsay of Australia's Sky News reported on what he called the "worst day by far" in Afghanistan, Friday, August 20. According to him, thousands of people worked their way towards the airport in the searing Afghan heat that day. He also reported he heard of people being crushed underfoot, accompanied by constant calls for help from medics throughout the day.
According to Ramsay, much of the chaos is attributable to frightened individuals rushing to avoid Taliban checkpoints. He reported a growing urgency to get to the airport where Afghans hope to catch a flight out of the country. The resulting crowds have become so erratic that people are trampling and crushing one another to death.
Other Media Outlets Weigh-In on Afghanistan's Worst Day
Other news reports supported and elaborated on Ramsay's reporting. For instance, The Guardian's British news agency reported that seven individuals died at Hamid Karzai International Airport on August 20.
The UK's Daily Mail offered similar reporting on the chaos experienced at the airport on Afghanistan's worst day. Holding nothing back, the Mail reported that witnesses observed women's lifeless bodies lying on the ground while approaching the airport in the blistering late morning sun. The "piercing screams of their children" could be heard echoing throughout the tragic scene.
The Daily Mail also reported that US and British troops sprayed the crowd down with hoses as part of an effort to cool them down as medics raced to render first aid to the injured.
Clearly, something will have to change if US-led forces stand any chance of meeting the evacuation deadline quickly. Biden has said he intends on leaving a residual force in Afghanistan after the end of August. At the same time, the Taliban appear to be losing patience with the Biden administration dragging its feet.
Ramsay fears the looming possibility the US will suddenly pull out of Afghanistan, leaving the chips to fall as they may.
~Here's to Our Liberty!
Copyright 2021, LibertySons.org