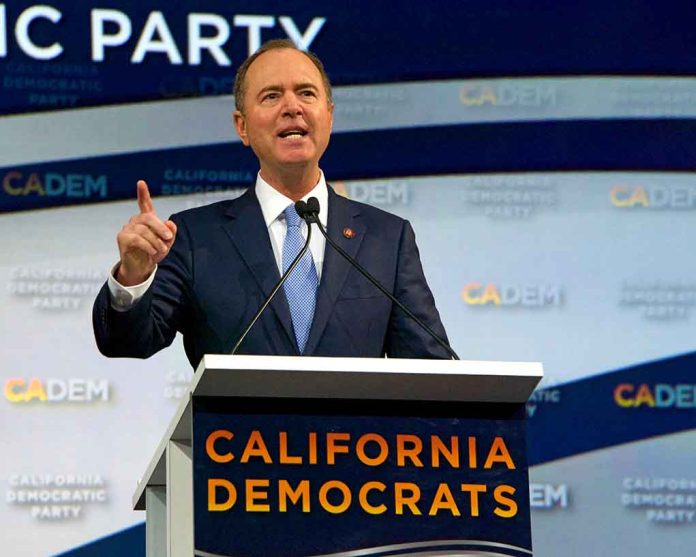 (LibertySons.org) – Longtime Senator Dianne Feinstein (D-CA) recently announced she would not seek reelection in 2024 and would retire instead. Representative Adam Schiff (D-CA) saw an opportunity to get a head start on the competition and announced he would run to fill her seat. However, the Democrat has come under fire for a late January campaign video he posted on his verified Twitter account, with some claiming he violated a congressional ethics rule.
Not a Great Start
Schiff's senatorial campaign is off to a rough start, to say the least, after posting a video that included himself on the Senate floor to present his case for the impeachment of then-President Donald Trump. The Foundation for Accountability and Civic Trust (FACT), a non-profit group promoting accountability and ethics in government, subsequently filed an ethics complaint with the Office of Congressional Ethics (OCE) in late January of this year.
FACT alleged that federal law prohibits members of Congress from utilizing footage from the floor of either chamber of Congress for campaign purposes. The non-profit organization said that Schiff violated that law by including government footage of himself on the Senate floor.
Kendra Arnold, the Executive Director of FACT, called for an investigation into the Representative if he didn't take the video down or discontinue using it.
Most recently, FACT sent a letter to the OCE on February 21, providing additional evidence supporting its claim that Schiff violated congressional ethics rules.
Other Allegations Involving Schiff
In addition to his alleged ethics violations, the California Democrat has come under scrutiny thanks to accusations from former CIA director and Secretary of State Mike Pompeo. During an interview with Fox News, the former Trump official claimed that Schiff was responsible for leaking sensitive information.
At the time, Pompeo declared the California Democrat shouldn't be anywhere near classified information.
Pompeo went as far as to claim that during his time as director of the CIA, he knew the California Democrat was leaking information. Continuing, he explained that when they would provide Schiff with intel, it always coincidentally "ended up in places it shouldn't." Pompeo noted that he eventually stopped briefing Schiff's team.
Dispatching the Democrat
Republicans elected McCarthy to serve as House Speaker in January after winning a slim majority in the House during the 2022 midterm elections. Some of his first significant moves as speaker involved removing Schiff from the House Select Committee on Intelligence.
~Here's to Our Liberty!
Copyright 2023, LibertySons.org