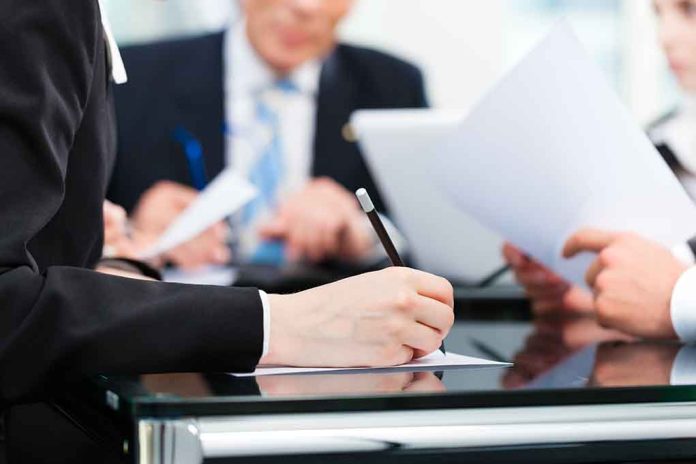 (LibertySons.org) – Former President Donald Trump is facing daunting legal battles in criminal and civil courts. He has several talented attorneys working on his behalf to navigate through the treacherous procedures he believes will lead to his acquittals. Let's look at a breakdown of some of Trump's defense lawyers in his highest-profile case.
Federal Indictment for National Defense Information
On June 8, Trump received a federal indictment containing 37 counts, which the court unsealed on June 9. Most of the charges, 31 counts, relate to allegations that the former president willfully retained national defense documents, including classified records, even after the government asked for their return on multiple occasions.
Trump attorneys working on the case included:
Todd Blanche — served as a former federal prosecutor and served nine years as the Assistance US Attorney for the Southern District of New York before becoming a private white-collar criminal defense attorney. He previously represented Paul Manafort.
Christopher Kise — served as the former Florida Solicitor General and as general counsel to the transition teams of Rick Scott and Ron DeSantis.
Alina Habba — has regularly served as a spokesperson for Trump and his interests, especially regarding legal matters. The New Jersey-based attorney previously took point in Trump's lawsuit against his niece, Mary Trump.
Lindsey Halligan — was the only attorney present during the FBI raid to remove documents from Mar-a-Lago on August 8, 2022.
Boris Epshteyn — has become one of Trump's closest advisors and in-house counsel. The Russian-born attorney worked on both the 2016 and 2020 campaigns and advised him to pursue questions and doubts regarding the 2020 election results.
John Rowley — served as a federal prosecutor who transitioned to become a leading white-collar criminal defense attorney. He's based his practice in Washington, DC.
Jim Trusty — boasted 27 years of state and federal prosecutorial experience, making him an effective defender in complex business and white-collar criminal cases.
Tim Parlatore — has experience in both civilian and military criminal law but specializes in complex business litigation and white-collar criminal defense.
Evan Corcoran — served as a federal prosecutor who translated his experience into a career as a defense attorney focused on white-collar crimes and arguing business cases.
The team has shifted significantly over time.
Changing Tides
Rowley, Trusty, Parlatore, and Corcoran initially ran the lead on the case. However, prosecutors compelled Corcoran to provide his case notes and testify before the grand jury, forcing him to recuse himself from further work for his client regarding the documents, although he remains active in other cases.
Parlatore recently departed because he alleged that Epshteyn filtered any information reaching Trump. On June 9, when the US District Court in the Southern District of Florida unsealed the indictment, Rowley and Trusty also quit. They didn't publicly disclose their reasons.
When Trump appeared at his arraignment on June 13 to respond to the indictment and enter his pleas, Blanche and Kise accompanied him, taking over the lead on the case. According to ABC News, the former president is still searching for lawyers to supplement the team.
~Here's to Our Liberty!
Copyright 2023, LibertySons.org