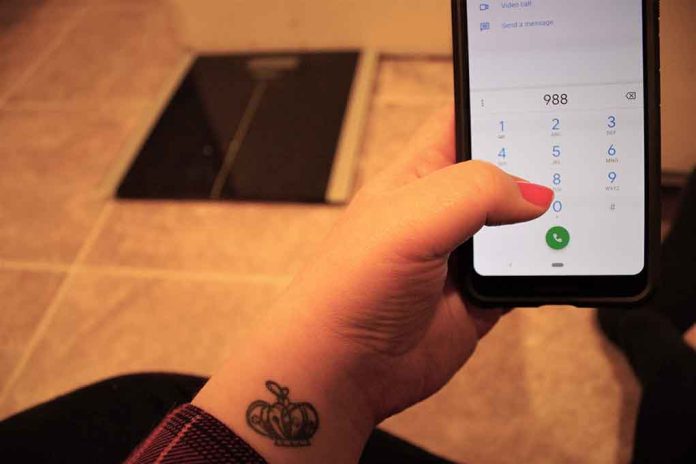 New Emergency Phone Number Launched – Please Share
(LibertySons.org) – Everyone in the US knows that in an emergency, they are to call 911. It's easy to remember, even in times of crisis. Following suit to make themselves more accessible, the National Suicide Prevention Hotline changed its number to 988 on July 16. The switch to the shorter option resulted from the National Suicide Hotline Designation Act of 2020.
Legislation Behind the Change
The law set 988 as the nationally available phone contact for the hotline because lawmakers found the traditional 10-digit number was too long and complicated. The shorter version makes it easier and more accessible for those in need to remember and use. The move was also part of a commitment to improve mental health care in the country.
The resource received $300 million from the federal government to help boost staff, upgrade call centers, and prepare for the switch.
Rebranding and Rebirth
Getting the new telephone number isn't the only change occurring at the center. The assistance line will also undergo rebranding to become known as the 988 Suicide and Crisis Lifeline in hopes people will see the service's availability for anyone going through a mental health situation. It's also there for people who want to support someone else during a difficult time. The call line and texting option aren't solely for those experiencing suicidal thoughts anymore.
Lifeline provides help for anyone having a rough time. The service is there for those who have had a loved one die from suicide, victims of a natural disaster, individuals from the LGBTQ+ community who are struggling, veterans, and neuro-divergent callers. They can offer care and compassion to people from all backgrounds.
Help Is at Your Fingertips
Individuals experiencing a crisis can call or text 988 to obtain care. Agents in 200 call centers throughout the country are ready to lend an ear. These workers, who can provide assistance in English or Spanish and for deaf and hard of hearing callers, have the skills to address a wide range of mental health situations. They also have the means to connect with emergency personnel if needed.
The service also has backup centers to avoid excessive wait times. However, the executive director of the lifeline, John Draper, explained there could be times when someone isn't immediately available to answer. Hence, callers may need to hold on, but help will be there as soon as possible.
Anyone who may be unaware of the switch in contact information for the line will be able to continue using the old number, 1-800-273-TALK (8255), as it will remain active. Also available are the hotline's website and the text option of sending HOME to 741741. Services through the 988 Suicide & Crisis Lifeline are available 24 hours a day, 7 days a week.
~Here's to Our Liberty!
Copyright 2022, LibertySons.org