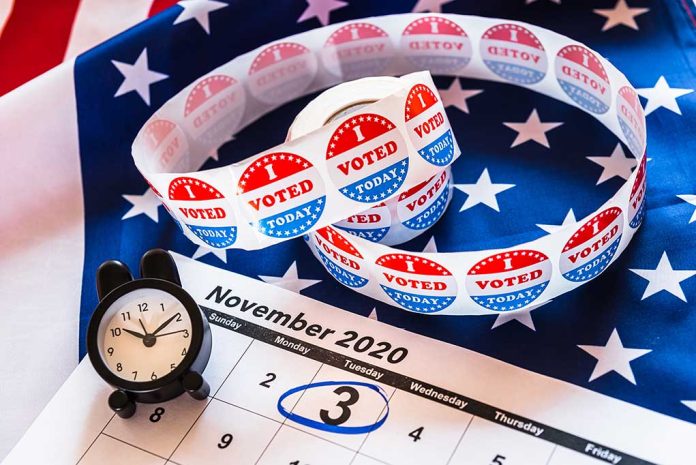 (LibertySons.org) – Voter requirements have been a hot topic of debate since 2020. Many people on the Right feel regulations need to increase to ensure election integrity, but the Left has fought every attempt in the name of protecting voters from discrimination.
Arizona has been under focus since the presidential election. Now, the Gateway Pundit has released an expose about questionable voter information as audits continue there.
According to the media outlet, the state has processed an incredible number of voter identities over the last ten weeks. The usual number of Arizona processes is about 2,500 per month, but for July, August, and the first half of September, it sought to verify 673,560 applicants.  The Gateway Pundit notes, "These are checks on older voter registration applications because this volume far exceeds new voter applications."
2020 Election Integrity: Arizona – Gateway Pundit

(It's not what in EXpect, it's what you INspect.)

What's Going On? Arizona Recently Processed 673,000 Voter Identities with the Social Security Administration – 58% Had NO MATCH FOUND https://t.co/JbZnYFEVjt via @gatewaypundit

— Rasmussen Reports (@Rasmussen_Poll) September 19, 2021
Even more alarming is that the state needed to check the identity of each voter because they failed to provide a driver's license. To verify each, information about the person must go through the Help America Vote Verification (HAVV) system from the Social Security Administration to search for a match within the system.
After going through HAVV, 58% came back with no match. The result isn't new for Arizona, which generally has a 50% to 65% Non-Match rate, but it's a far cry from the country's average of 15% to 25%.
Maricopa County, where the audits are occurring, used three different voter interfaces for the 2020 elections. Currently, there's no information on which system is under investigation or who requested the inquiry.
~ Here's to Our Liberty!
Copyright 2021, LibertySons.org