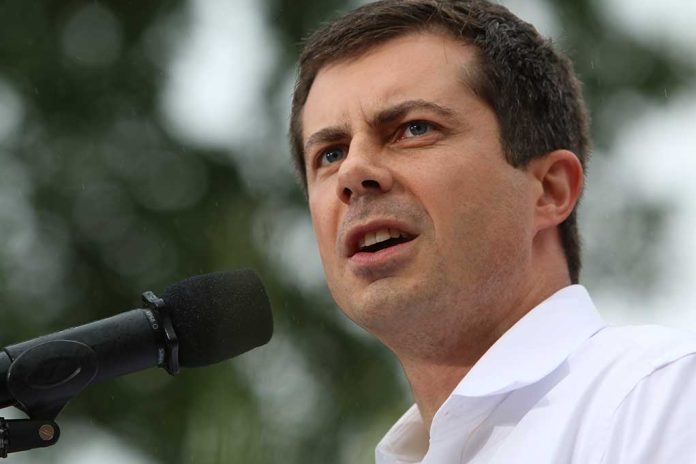 (LibertySons.org) – Transportation Secretary Pete Buttigieg has taken a lot of criticism over last month's Ohio rail disaster. Now it seems that's put a big dent in his reputation. In fact, a majority of Americans want him to quit.
When a train loaded with toxic chemicals derailed in East Palestine, Ohio, on February 3, it took almost three weeks for the transportation secretary to visit the scene –- and even then, many think he only went there because former president Donald Trump had. Buttigieg has angrily denied this, but suspicions linger.
Derailed: 51% Want Buttigieg to Resign

In the wake of the Ohio train derailment disaster, a majority of voters believe Transportation Secretary Peter Buttigieg should resign.

More At Rasmussen Reports: https://t.co/PollVPpe5z pic.twitter.com/eeNe4l8Gro

— Rasmussen Reports (@Rasmussen_Poll) March 13, 2023
This situation isn't the first time Buttigieg has attracted negative headlines since he landed the Transportation Secretary's job. After he and his partner adopted twins in September 2021, he promptly disappeared on paternity leave for weeks, although the administration was working on a huge infrastructure spending bill at the time –- much of it related to transportation –- and the nation's supply chains were also collapsing thanks to lingering problems following government mandated shutdowns. Many Republicans felt Buttigieg should have been at work through the transportation crisis.
Now the public seems to be getting fed up with Buttigieg too. A new poll taken by Rasmussen between March 6 to 8 asked whether he should stay in his post or resign after the poor response to the Ohio derailment, and it's clear the transportation secretary didn't handle the situation well.
A slim majority of all voters –- 51% –- now think he should step down. That includes 68% of Republicans, 51% of independents, and 35% of Democrats. As to whether he's doing a good job that's more evenly balanced, 45% of likely voters think he is, 44% think he isn't, and 10% don't know.
Finally, the poll also asked if Buttigieg was doing a better or worse job than his predecessors in the post. Forty-one percent think he's worse, and 25% believe he's doing about the same; just 26% think his performance is better. Even without the East Palestine scandal, he didn't impress voters; with it, his credibility is now seriously damaged.
~Here's to Our Liberty!
Copyright 2023, LibertySons.org