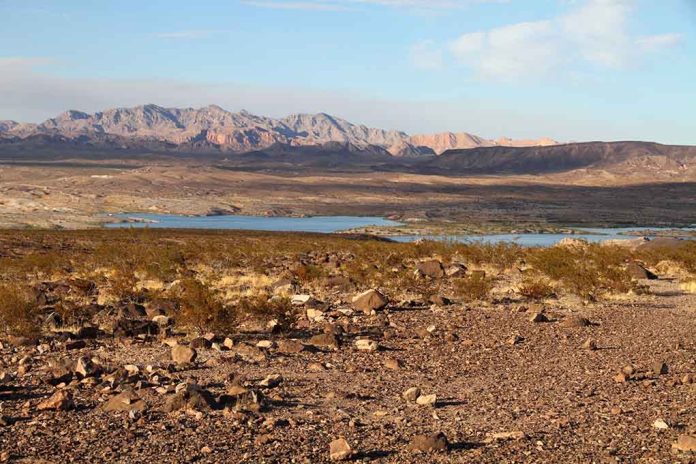 A Fourth Set of Body Parts Has Been Found!
(LibertySons.org) – Lake Mead is a man-made body of water located in Arizona and Nevada. A product of the Hoover Dam containing the Colorado River's flow, the massive basin serves as a water source for millions in the area. Due to drought and an increasing population, the lake is now only at 27% capacity. As it recedes, bodies keep surfacing. The fourth showed up on Swim Beach on August 6.
More human remains found in receding Lake Mead — the fourth such discovery since May: Lake Mead, a federal park as well as the country's largest reservoir, has unveiled yet more secrets as human remains were discovered at Swim Beach .. via NBCNews https://t.co/gUMfTBcukE

— Jeffrey Levin 🇺🇦 (@jilevin) August 8, 2022
Authorities responded to calls about skeletal remains in the Lake Mead National Recreation Area. Divers with the Las Vegas Metropolitan Police Department helped recover the body.
On July 25, officials found another set of remains at the same location. Before the bodies at Swim Beach, on May 7, two women discovered a skeleton at Callville Bay. There are no known causes of death for any of these individuals, and authorities have yet to identify them.
The first body to reveal itself from the diminishing waters of the lake was in a barrel near Hemenway Harbor. The clothing on the skeleton, which also had some organ tissue remaining, led authorities to believe the victim died in the 1970s or 1980s. Investigators were also able to deduce that the cause of death was likely a gunshot wound.
Officials continue to work on all four cases in hopes of discovering the names of each individual and the circumstances leading to their demise.
~Here's to Our Liberty!
Copyright 2022, LibertySons.org