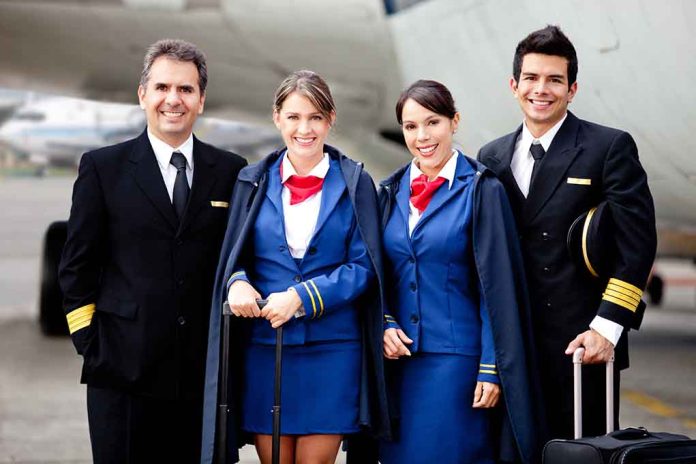 (LibertySons.org) – On April 18, a federal judge in Florida ruled that the mask mandate under the Biden administration was unlawful. Her ruling immediately lifted the requirements to wear facial coverings on public transportation, but it left the door open for appeals. Now, a group of airline employees petitioned the court to ask for a permanent ban on the mandate.
"We are subject to the Mask Mandate every hour we are working"

A group of 309 pilots and flight attendants asked an appeals court to declare the federal #MaskMandate permanently illegal—after a #Florida judge struck down the mandate earlier this week. https://t.co/yi5FZaFT3k

— The Epoch Times (@EpochTimes) April 21, 2022
Representing 16 airlines, these pilots and flight attendants want to ensure the Biden White House won't have the ability to win a reversal of the ruling on appeal. JetBlue pilot Janviere Carlin, who helped to coordinate the court petition, explained to the Quest for 243 travel blog that they're aware the administration won't give up and will pursue putting the mandate back in place.
The brief, filed in the Washington, D.C. Court of Appeals, stated that it wants a judge to forbid the Transportation Security Administration (TSA) from instating any type of facial covering requirement because the agency lacks the authority to do so. The claim says the TSA only has jurisdiction over security within airlines. In addition, the group explained the filtration systems in planes significantly reduce any chances of COVID-19 spreading among passengers.
The group notes these mask mandates are a hardship for them because they must wear the facial coverings at all times when on duty. They claim it constitutes a danger to their health.
These airline employees weren't wrong in believing the Florida judge's ruling wouldn't stand for long before the Biden administration decided to fight it. The Department of Justice announced its intention to file an appeal on April 19.
~Here's to Our Liberty!
Copyright 2022, LibertySons.org