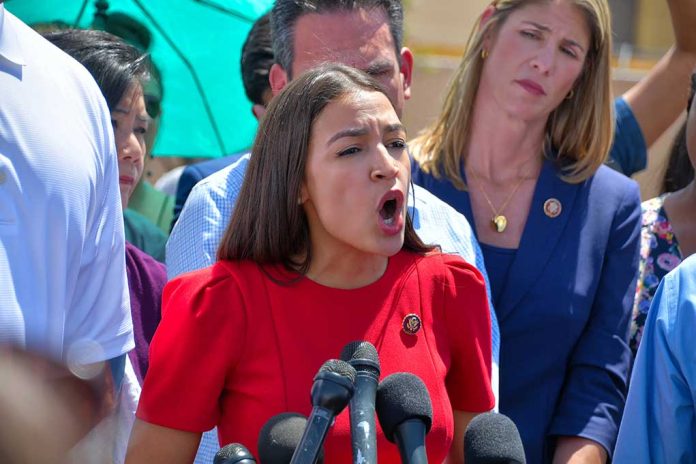 Surprise Arrest – Multiple Democrat Leaders Named
(LibertySons.org) – Some lawmakers found themselves in hot water at a Washington, DC, pro-abortion rally on July 19. The group was there to protest the US Supreme Court's decision in Dobbs v. Jackson Women's Health Organization. After refusing to listen to multiple warnings from the Capitol Police, officers began arresting individuals for blocking the street. Among the 35 people authorities took into custody were 17 Democratic members of the US House of Representatives.
Reps Alexandria Ocasio-Cortez, Cori Bush, Ayanna Pressley and other House Democrats arrested at an abortion rights rally protesting the Supreme Court decision that overturned Roe v. Wade.https://t.co/VosA6cDfWH

— Truthout (@truthout) July 19, 2022
Officials said they would release the lawmakers and impose fines on them. Some of the arrestees were members of what some people refer to as the Squad: Representatives Ilhan Omar (D-MN), Rashida Tlaib (D-MI), Ayanna Pressley (D-MA), Cori Bush (D-MO), and Alexandria Ocasio-Cortez (D-NY).
AOC received some pushback after she tried to play up her arrest by pretending to have her arms handcuffed behind her. The politician's plans to gain sympathy, however, failed as people on Twitter called the congresswoman out for trying to get attention and play the victim.
.@AOC is such an expert at getting attention and narrative building that she PRETENDED to be handcuffed just so she could have this image on social media.

There are no handcuffs on her lmfaoooo pic.twitter.com/DJBsH2Z5lv

— Jason Howerton (@jason_howerton) July 19, 2022
Other arrested lawmakers spoke about why they were there and the goal of the protest. Representative Carolyn Maloney (D-NY) said women must have the right to make their own health decisions or democracy cannot exist. Representative Andy Levin (D-MI) explained only social movements bring about a significant change in the United States.
When questioned about whether they will continue to speak out and hold similar events, Representative Jackie Speier (D-CA) simply stated, "Stay tuned."
~Here's to Our Liberty!
Copyright 2022, LibertySons.org